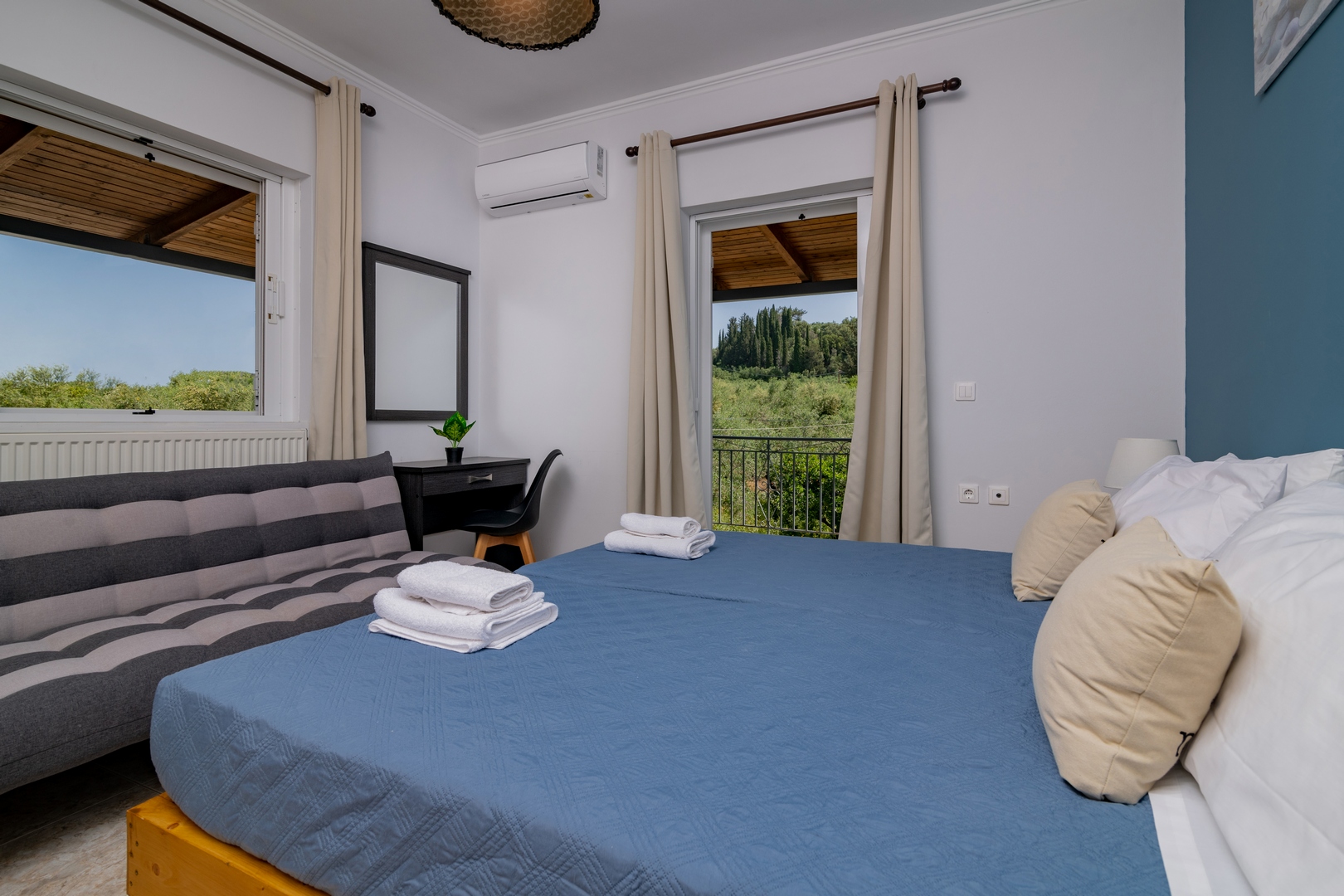 THE VILLA
Ruvelis villa provides a well fenced 800 sq. m area with main entrance and car entrance which leads directly to a sheltered parking place for 3 cars. At the outdoor area you will find a private pool (32 sq. m.) along with kid's pool (3sq.m. and 0.40m depth) and 9 sun loungers, an outdoor dining table near BBQ, an outdoor salon and 150 sq.m. grass among olive treescupidatat non proident, sunt in culpa qui officia mollit natoque consequat massa quis enim.
The villa is a two-storey building in the center of the plot with a layout that allows a pleasant balance of accommodation and daily activities inside the house. Through the external staircase that leads to the first floor of the house you can immediately find yourself in any bedroom you use for your stay.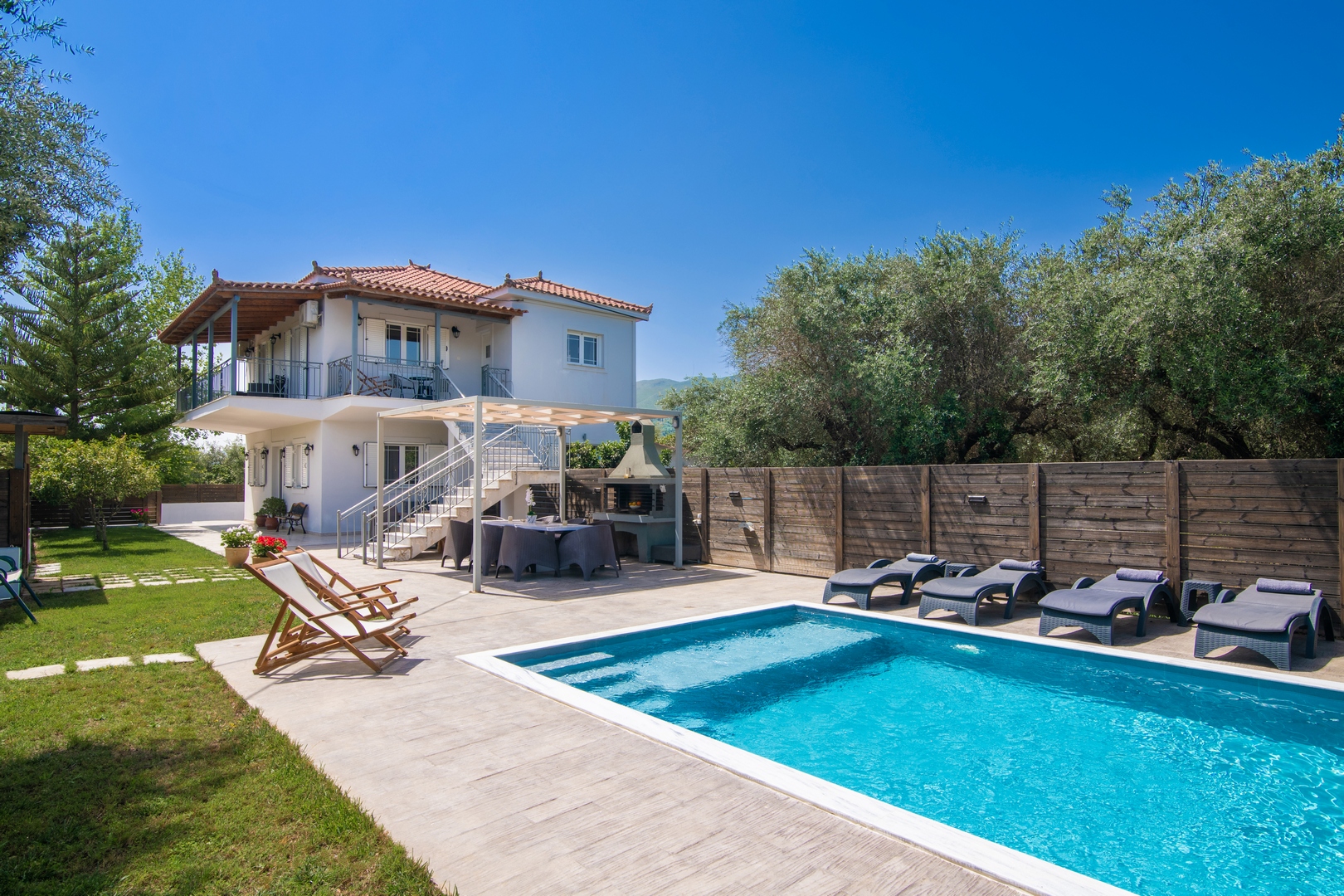 In the house ground floor odors a large living room with sofas and 55" smart TV, also a fully equipped kitchen with everything you need to feel like home (oven, fridge, microwave, espresso machines, all modern electrical  appliances), wooden dining table, the first bathroom and bedroom on with classic double bed.
Entering the first floor by internal stairs, we will find three bedrooms, a small kitchen for basic needs and the second bathroom.
The first master bedrooms provides twin beds , sofa turning to a bed for extra person after request and open-air veranda with salon and deckchairs. The second master bedroom provides king bed (1.60m) , sofa turning to a bed for extra person after request and open-air veranda with salon and deckchairs.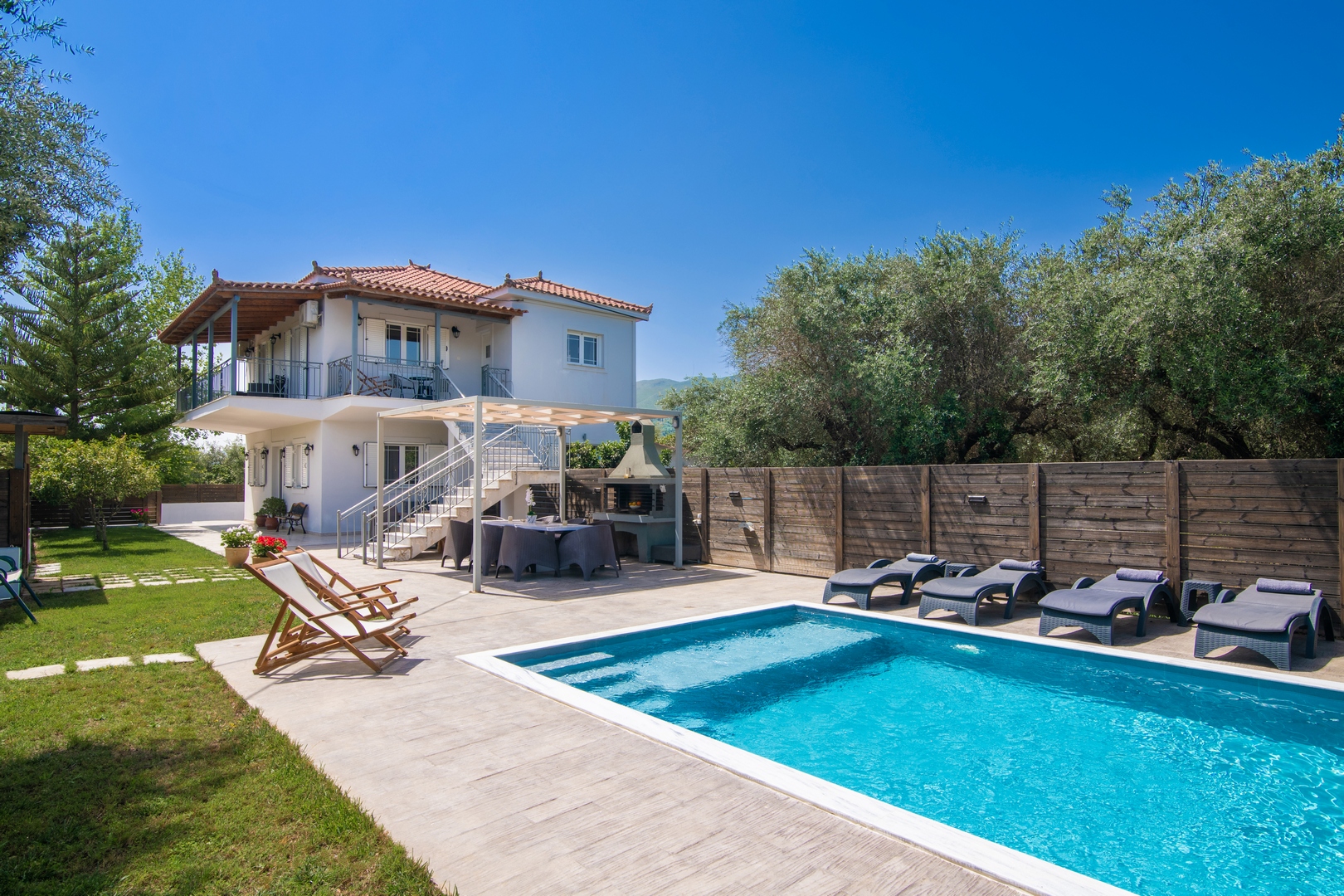 In the third bedroom you will find also a classic double bed.
At the open air first floor veranda there is a salon with armchairs, where you may enjoy quiet evenings outside your bedrooms.
You can also enjoy the view to the mountainous part of the island and the green nature.
Villa bed sum: 2 twin beds,3 double beds and 2 sofa beds.
Ruvelis villa is fully air-conditioned on all areas and capacity is up to 8 persons. After request we may accommodate up to 10 persons.
On your check in you will find basic food supplies for the first hours.
Your reception at the accommodation is always made by the host in order to present the space, provide information about the island and create relationships that will help you feel at home.
The hosts visit Villa Ruvelis daily for the cleanliness and control of the services and ensure the proper operation of the facilities. We are in direct contact with visitors 24 hours a day if the need arises.
Check in after 14.00 and free early check in after request and possible availability.
Check out before 11.00 and free late out after request and possible availability.
Cleaning the house according to the respective health protocols in relation to COVID-19 and change of sheets and towels every 3rd day. The inspection and cleaning of the pool is done daily with the aim of perfect operation and hygiene. After consultation, the cleaning is done at the time you choose.

Dragos
AIRBNB
Everything was great, perfect set up for two families with kids. The pool is great and location is in a nice and quite village. From here you can reach any beach on the island. The host is very nice and supportive and don't hesitate to ask for reco when it comes to taverns

JODIE
AIRBNB
can't say a bad word about our stay, Giorgos has been on hand to help with anything we have needed. there is a super helpful book put together by the hosts of places to see and nearby shops etc. we've had a fabulous time staying here with our family

KATELINE
AIRBNB
This stay was great! Giorgios even helped accommodate us to come earlier than expected. Very secluded and out of the way which we enjoyed for privacy. Fit all 9 of us very comfortable with no issues. Would definitely stay again!

LUIGI
AIRBNB
The Villa was amazing, everything is perfect and well organised and the host is fantastic, the location is also very nice because Is so quiet although a bit far away from everything you need to have a car to get around apart from that it is totally worth it.

ADREI
AIRBNB
Rouvelis Villa is a great place for large groups or families with kids. The pool is amazing, the yard has loads of quiet and shady areas. The rooms are very nice and the A/C does its job. The owner was kind enough to provide everything you need.